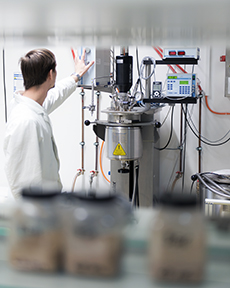 ANiMOX develops new processes for the use of organic raw materials and residues with the aim of recycling them and avoiding waste and waste costs. Different thermal, enzymatic and physical extraction and hydrolysis steps can be used, to carry out the necessary experiments. Especially in the field of thermal pressure hydrolysis, in combination with enzymatic and mechanical modules, ANiMOX has an outstanding experience and competence.
Key points of the process developments are:
Thermal pressure hydrolysis for the simultaneous extraction of aqueous protein phases and fat phases from organic residues
Enzymatic hydrolysis and extraction of raw materials
Combination of enzymatic hydrolysis with thermo-pressure hydrolysis as pre- or post-treatment
Screening of a wide range of engineering enzymes from different manufacturers (proteases, cellulases, pectinases, lipases, etc.) for optimal yields and specific product requirements such as molecular weight or viscosity
Testing decolorization and filtration steps to improve product quality
Use of different concentration and drying methods such as freeze drying, spray drying and vacuum evaporation for product recovery
Developing innovative technical processes and technology combinations
Analysis, balancing and optimization of material flows in production plants
As results you get:
Processes with mass flow balances and SOPs for industrial implementation for upscaling
Samples of the product up to the kilogram scale including certificate of analysis
Profitability calculations for the developed processes
Mediation to partners for a possible plant construction
The aim of the process development is always to maximize the value added from the given raw materials and to make the process suitable for industrial production.
 
---
Please contact us if you have any questions. Call (+49 30 63921041) or write us.
---